Login
Log in if you have an account
Register
By creating an account with our store, you will be able to move through the checkout process faster, store multiple addresses, view and track your orders in your account, and more.
Create an account
Care instructions
At Something About Mari we care about the quality of our garments, but also the environment. So first of all, in general wash as little as possible. The less you wash your clothes, the longer they stay beautiful and the longer they last. This way you also save water, power and detergent, which is better for our environment. If you just have a small stain in your garment, first try to clean it by hand and hang it out to dry. If your garment smells, try hanging it out, preferably in open air. You can always still wash your garment.
BUT, there is one thing you have to keep in mind, especially for items made of fibers of animal origin like wool and mohair (but also other, mostly natural fibers): moths. Or more in particular, their larvae babies. They feed themselves on lingering body oils and food residue, in other words "dirty" clothes (not always visible with the eye). The longer these non-clean clothes linger in a dark corner of your drawer, the bigger the chance they choose that drawer for a cozy homestead. So before giving them creatures a chance to settle in your favo sweater - wash your clothes regularly. Towards the warmer and damper time of the year (say April) make it a habit to thoroughly clean out your closet - browse the internet for more information. 
An extra tip for lengthening the life of your wool or mixed wool knits (but also certain fabrics): should pilling occur, it can very easily be removed with a special de-pilling device. Look for one of which the batteries can be re-charged. Works wonders!     
To make sure your garment stays in the best shape possible, we would strongly recommend to stick to our care instructions. You can find these on the care label inside your garment, or underneath this text. Let's keep your garment and our planet happy!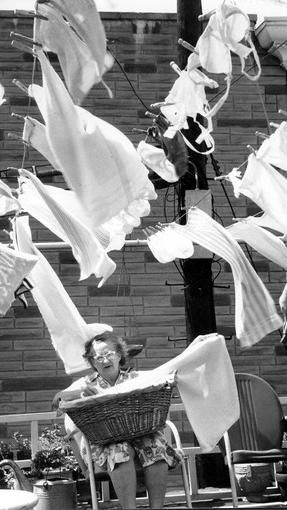 When you use the washing machine, use full loaded cycles but do not overload to avoid creasing, especially if natural fabrics are involved like Tencel or cotton. Everyone knows you should sort clothing before washing, in any case by color. But here are some important facts not everyone knows: to limit wear and tear on your garments: wash inside-out, in any case woven garments; unbutton pieces with buttons, but ZIP UP those with zippers. Better avoid washing heavy clothes like jeans together with fragile pieces like blouses. If you want to use the dryer for say, cotton trousers, shirts or towels: let a few pieces dry in there for just a couple of minutes, then hang to dry. The creases will be (almost) gone and the fabric will be less stiff, but you limit the time in the dryer.
| | | |
| --- | --- | --- |
| Composition |   | Care |
| 100% Merino lambswool | | Handwash cold |
|   | | No bleeching |
|   | | No Tumble-dry |
|   | | Cold Iron |
|   | | Dry cleaning allowed |
|   | | Dry flat |
|   |   |   |
| 93% Merino Lambswool | | Handwash cold |
| 7% Elastan | | No bleeching |
|   | | No Tumble-dry |
|   | | Cold Iron |
|   | | Dry cleaning allowed |
|   | | Dry flat |
|   |   |   |
| 57% Mohair | | Handwash cold |
| 25% Acrylic | | No bleeching |
| 18% Polyester | | No Tumble-dry |
|   | | Cold Iron |
|   | | Dry cleaning allowed |
|   | | Dry flat |
|   |   |   |
| 34% Mohair | | Handwash cold |
| 15% Acrylic | | No bleeching |
| 13% Viscose | | No Tumble-dry |
| 38% Other fabrics | | Cold Iron |
|   | | Dry cleaning allowed |
|   | | Dry flat |
|   |   |   |
| 100% Tencel | | Wash at 30 |
|   | | No Bleeching |
|   | | No Tumble Dry |
|   | | Cold Iron |
|   | | Dry cleaning allowed |
|   |   |   |
| 70% Viscose | | Wash at 30 |
| 30% Polyester | | No Bleeching |
|   | | No Tumble Dry |
|   | | Cold Iron |
|   | | Dry cleaning allowed |
|   |   |   |
| 60% Cupro | | Wash at 30 |
| 40% Viscose | | No Bleeching |
|   | | No Tumble Dry |
|   | | Cold Iron |
|   | | Dry cleaning allowed |